Living Area - Bedroom - Bathroom - Deck
Door Frame & Jamb Adjustment
Repair frame/jamb. Solve missing parts, gaps and areas. Adjust door in frame to open and close freely.
Measurement of rough opening for proper replacement door product/size. Interior/Exterior door replacement - door slabs or pre-hung. Some doors do require two Fixers for transport and installation.

Knob Repair or Replacement
Find solution for existing hardware and repair lock.
Stop the cold air whistling through door. Save money on heating bills.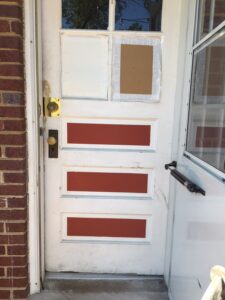 Prices and times are estimates.
Contact us! We can help diagnose the problem and get to work.